The Cranberries actua en el Palacio de Vistalegre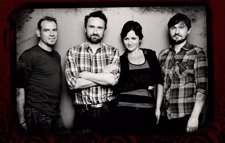 Foto: THE CRANBERRIES
MADRID, 5 Oct. (EUROPA PRESS) -
The Cranberries llega esta semana a España para actuar en Madrid y Barcelona, dos conciertos en los que interpretarán en directo las canciones de su último disco, 'Roses', así como sus grandes éxitos. Los cántabros Lazy serán los teloneros de ambas actuaciones.
En concreto, la banda estuvo ayer en el Palau Sant Jordi de Barcelona y hoy vierners tocará en el Palacio Vistalegre de Madrid, para repasar grandes éxitos de toda su trayectoria como 'Zombie', 'Salvation', 'Ridiculous Thoughts', 'Ode To My Family', 'Linger', 'Dreams', 'Promises' o 'Animal instinct'.
Una década después de publicar 'Wake up and smell the coffee', y tras haber anunciado su separación en 2003, la banda capitaneada por Dolores O'Riordan publicó el pasado mes de febrero 'Roses', su sexto álbum de estudio.
El disco, producido por Stephen Street (The Smiths, Blur), está compuesto por 11 canciones en las que los irlandeses muestran una mayor madurez sonora, tanto en el plano instrumental como en la propia voz de su cantante.
La banda, que nació en Limerick (Irlanda) en 1989, regresa de esta forma a la frescura y la originalidad de sus dos primeros discos: 'Everybody Else Is Doing It, So Why Can't We?' (1993) y No Need To Argue (1994).
Los cántabros Lazy serán los encargados de abrir los conciertos que The Cranberries darán esta semana en Madrid y Barcelona, y lo harán con la presentación en directo de 'Across, around', su último trabajo discográfico, donde reúnen sus composiciones más eclécticas.
Este es el primer álbum que publican tras su debut, 'Reservoir', con el que fueron ganadores del concurso Puro Cuatro en la categoría Pop. La banda, formada en 2003, ha grabado su nuevo disco en los estudios Guitar Town Recordings por Hendrik Röver (Los Detonos), convertido ya en colaborador habitual del grupo.